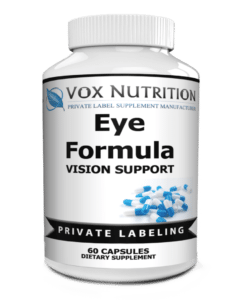 Private Label Eye Formula
Eye Formula is a naturally produced proprietary blend of vitamins, minerals and antioxidants. Â This formula helps with increased clarity of vision, color perception, night vision, distance vision and reading clarity. Â Not only does this supplement help the eye but also an overall boost to the immune system can be experienced.
Eye Formula Benefits:
Vision loss is something that drastically affects the lives of those who experience it. Â Over 8 million people are at risk of experiencing age-related macular degeneration in their lifetime. Â Eye Formula is a supplement that, when taken according to directions, will aid in helping infections and other vision related issues associated with the eyes. Packed with vitamins and minerals including Biotin and vitamin C there is an added bonus of a boost to the immune system.

Private Label Your Company's Vitamin Supplements
As a private label manufacturer we offer our customers Sleep formula, delivered in easy to swallow capsules while providing unlimited customization of your order. Order today and get a turn around time of 72 hours on your private label supplements.
Serving Size: 1 Capsules
Capsules Per Container: 60
Bottle Color: White
Bottle Size: 175cc
Lid Color: White
Tablets Per Container

:

30 ct

60 ct

90 ct

120 ct

180 ct

Bottle Color

:

White

Cobalt Blue

Black

Light Amber

Bottle Size

:

100cc

150cc

175cc

200cc

250cc

300cc

Lid Color

:
*For 100 – 200cc bottles only
Summary
Author Rating





Brand Name
Product Name
Private Label Eye Formula
Price
Product Availability