Private Label Phytoceramides
Phytoceramides is an all natural supplement produced from the extract of plant ceramides and combined with Vitamin A-known for its anti-aging properties, Vitamin C-an antioxidant that aids in collagen for elasticity, Vitamin D-skin strengthener and Vitamin E-stops premature aging of the skin. Together fighting signs of aging from within.
Benefits of Phytoceramides:
Anti Wrinkle formula

Hydrate skin

Younger looking skin

Strengthen cells
This potent formula supports the restoration of healthy skin by strengthening cells and hydrating the skin to avoid wrinkles. Helping the skin maintain a healthy youthful appearance. Available in a easy to swallow all natural vegetable capsules.
Private Label Your Company's Supplements
As a private label manufacturer Vox Nutrition offers its customers Phytoceramides , delivered in easy to swallow capsules while providing unlimited customization of your order.
Order today and get a turn around time of 72 hours on your private label supplements.
Serving Size: 1 Capsules
Capsules Per Container: 30
Bottle Color: White
Bottle Size: 175cc
Lid Color: White
Tablets Per Container

:

30 ct

60 ct

90 ct

120 ct

180 ct

Bottle Color

:

White

Cobalt Blue

Black

Light Amber

Bottle Size

:

100cc

150cc

175cc

200cc

250cc

300cc

Lid Color

:
*For 100 – 200cc bottles only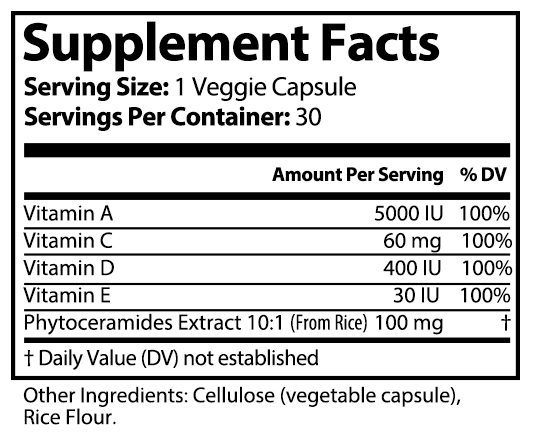 Vox Nutrition's Phytoceramides formula works to reduce fine lines and wrinkles and improve the structural integrity of the skin in as little as a few weeks. Phytoceramides has been used in the Far East for hundreds of years.
Phytoceramides'Ä欆was developed in recent years, as one of the latest generation of moisturizing factor, it is awater-soluble lipid material, close it and make the skin cutin layer of the material structure, can quickly penetrate into skin, and the water in the stratum corneum, forming a mesh structure, lock in moisture.'ÄćThree of my customers in French and Canada use the¬†Phytoceramides'Ä欆for Anti-wrinkle Patches'Äć
Phytoceramides is a natural blend of vitamins and plant derived ceramides, a potent formula for anti-aging and skin care. An effective blend of Vitamin A 'Äď an anti-aging nutrient that repairs the skin as it fends off lines, wrinkles, and other anti-aging symptoms. Vitamin C 'Äď a critical nutrient for your skin, an antioxidant that produces collagen for elasticity and resilient skin. Vitamin D 'Äď considered the 'Äúsunshine'ÄĚ vitamin, a key ingredient for beautiful skin and Vitamin E 'Äď an anti-oxidant that fights free radicals that cause premature aging.
Phytoceramides are plant derived ceramides which help to attract and hold moisture in the skin. Working together to restore skin, hydrate and moisturize, this highly potent veggie supplement will naturally restore skin, strengthen cells, and unlock the nature beauty of your skin.
Benefits of Phytoceramides
All natural & safe
Plant based anti-aging compounds*
Can reverse signs of aging*
Can restore youthful plump skin*
Summary
Author Rating





Brand Name
Product Name
Private Label Phytoceramides
Price
Product Availability