Private Label Turmeric W/ Ginger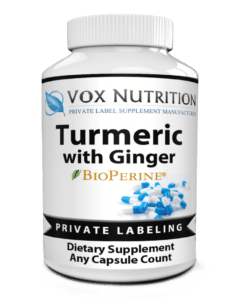 With potentially over 600 different health benefits that comes from Turmeric Curcumin it is easily the most popular herbal supplement on the market. Adding ginger to this already powerful supplement has simply make our private label turmeric with ginger vitamin supplement the next big thing in the supplement industry. And a must have for any company selling supplements to those looking for a more holistic solution to everyday health issues.
Why Sell Turmeric With Ginger?
Turmeric and Ginger are two of the best herbal supplements that acts as a powerful anti-inflammatory and antioxidant. These two herbs combined together have been used for years to help naturally relieve a variety of ailments. Below are just a few of the many benefits of our private label turmeric with ginger and bioperine.
Benefits of Turmeric:
Powerful Anti-inflammatory
Promotes Healthy digestion
Helps Improve Metabolism
Supports cardiovascular health
Helps Boost cognitive brain function
Powerful Antioxidant
Private Label Your Company's Vitamin Supplements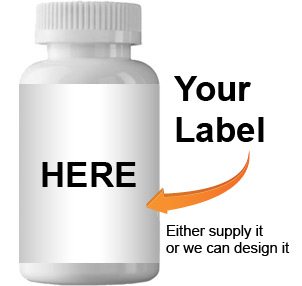 As a private label manufacturer we offer our customers Private Label Turmeric with ginger vitamin supplements, delivered in easy to swallow capsules while providing unlimited customization of your order.
Order today and get a turn around time of 72 hours on your private label supplements.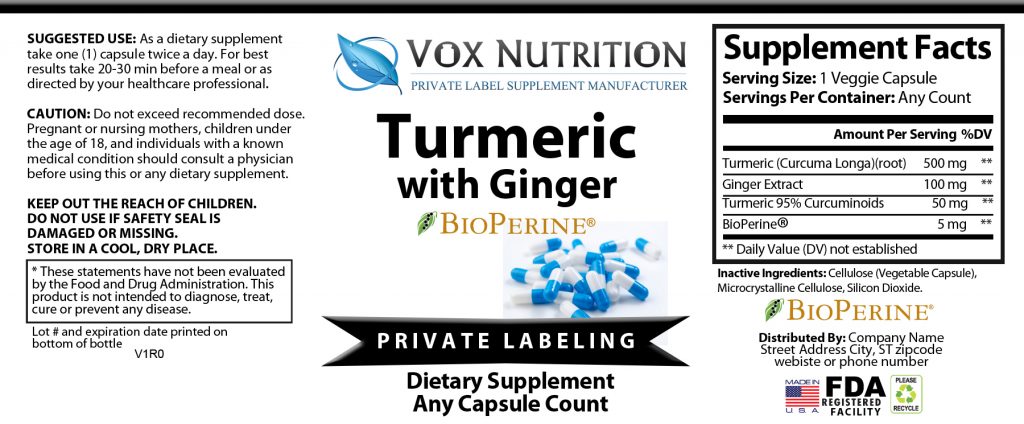 Serving Size: 1 Veggie Capsules
Capsules Per Container: 60
Bottle Color: White
Bottle Size: 175cc
Lid Color: White
Tablets Per Container

:

30 ct

60 ct

90 ct

120 ct

180 ct

Bottle Color

:

White

Cobalt Blue

Black

Red

Light Amber

Bottle Size

:

100cc

150cc

175cc

200cc

225cc

250cc

300cc

400cc

Lid Color

:

White

Black

Pink*

Red*

Yellow*
*For 100 – 200cc bottles only
For more information on our private label bottling options click here.