Did you know that beauty product sales in 2016 soared to over 63 billion dollars?  People are on a mission to achieve a younger, healthier, and more attractive appearance.  Don't miss out on this opportunity to profit from this trend by private labeling your own line of quality beauty products. At Vox Nutrition, we make that process fast, easy, and affordable.
Top Beauty Products That You Should Private Label in 2017!
A healthy appearance is always in style! Our Hair Skin and Nails is a natural blend of private label vitamin B6, Folic acid, and Biotin to help strengthen your nails, grow healthier hair, and give your skin a natural glow. Private label vitamin B6 is one of the main vitamins responsible for functions in the body like red blood cell growth, healthy brain and nervous system function, and protein uptake. Folic acid, another kind of B vitamin, has been used for years to prevent and treat low blood levels of folic acid, which at a certain point can lead to liver and kidney disease. Biotin plays a key role in the body, as a main support for healthy skin, hair, and nails.
Benefits of Hair Skin & Nails:
Stronger nails

Increases energy levels

Promotes hair growth

Improved complexion
Order Your Private Label Hair Skin & Nails Here
Coconut Oil has been described as the miracle product of 2016!  Vox Nutrition Coconut Oil is pressed from the dried flesh of the fruit from the coconut tree. During the manufacturing process, Extra Virgin Coconut Oil is not exposed to chemical solvents or high temperatures. This allows it to retain its chemical composition, including the medium chain triglycerides that give it many of its benefits.
Benefits of Coconut Oil:
Balances weight

Increases metabolism and the burning of abdominal fat

Raises good cholesterol

Lowers bad cholesterol

Strengthens the immune system

Moisturizes and protects for healthier skin, stronger nails, and softer hair

Improves hormone health and thyroid function
Order Your Private Label Coconut Oil Here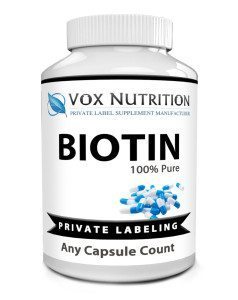 Biotin is a popular supplement that has been used to aid in the health of skin and nails.  In addition, it aids in the pathology of some nerves, reduction of hair loss.  Biotin aids in the formation of fatty acids and glucose, which help to sustain the body.  Biotin also helps the metabolization of unnecessary carbohydrates and amino acids.
Benefits of Biotin:
Promotes Hair Growth

Strong Nails

Healthy Skin

Nerve health

Metabolic Booster
Order Your Private Label Biotin Here

The Beard Oil demand has grown exponentially every year since 2012. In 2012 sales for male grooming products such Beard Oils were at an all-time high of over 3 billion dollars. By 2017 that number is expected to more than double, as men are now spending more on grooming toiletries than shaving products.
Benefits of Beard Oil:
Moisturizes the skin under the hair

Stimulates hair growth

Makes hair softer, smooth

Moisturizes hair with no leftover residue

Eliminates itchy skin

Treats Split ends and frizziness
Order Your Private Label Beard Oil Here
Hair Oils has been one of the top 5 best-selling hair care products on the market for the last 5 years, and is widely recommended by hair care professionals especially for people that use heat to style their hair.
Benefits of Hair Oil:
Stimulates hair Growth

Repairs Damaged Hair

Helps eliminate knots and tangles

Makes Hair Softer, Smooth

Moisturizes hair with no leftover residue

Treats Split ends and Frizziness
Order Your Private Label Hair Oil Here
Make 2017 your year for success, and start private labeling this coming year's hottest beauty products today.  Order your Private Label Hair & Beauty Supplements now and be ready for the New Year with our quickest turnaround time in the industry. 


Top Hair & Beauty Supplements Of 2016
The Beauty industry has soared to be worth over 63 billion in 2016. See the top hair and beauty supplements you should private label in 2017 here.