In a world of constant photo sharing and status updating, the pressure is on to constantly have a radiant glow. One thing is for sure, the anti-aging skin care market is not slowing down anytime soon.  In fact, the global skin care industry is projected to reach $131 billion in 2019.
Anti-aging products have evolved and they no longer only target wrinkles and fine lines but also to help issues such as dry skin, firmness, blotchy skin tone, and dark circles under eyes. Â 
Skin Care Products To Private Label In 2017
Over the last year we have studied the trends and compiled a list of the most popular skincare products that you should start private labeling in 2017!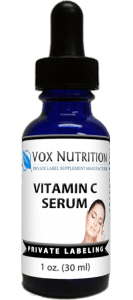 This supplement has really gained traction in popularity over the past few years. This supplement is necessary for healthy development and function of the body. Our Vitamin C Serum is provided in an easy to use bottle with dropper, making application to the skin easy, applying this natural vitamin to the skin aids in boosting the immune system and getting smoother, clearer skin. Vitamin C also aids in the healthy growth of new skin and repair of damaged skin.
Benefits of Vitamin C:
Immune system support

Skin health

Elasticity in skin

Anti-wrinkle
Private Label Phytoceramides is an all-natural vitamin supplement produced from the extract of plant ceramides and combined with Vitamin A-known for its anti-aging properties. Vitamin C-an antioxidant that aids in collagen for elasticity, Vitamin D-skin strengthener and Vitamin E-stops premature aging of the skin. Together this combination will fight signs of aging from within.
Benefits of Phytoceramides:
Anti wrinkle formula

Hydrate skin

Younger looking skin

Strengthen cells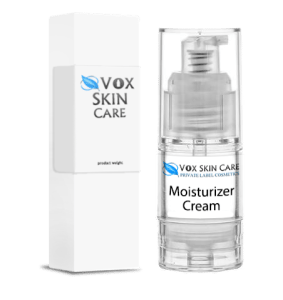 We have developed a natural moisturizer that is proven to help moisturize all day without causing redness or irritation. Your clients will feel the difference and experience ultra-soft smooth skin after 2 weeks of use. Vox Skin Care uses top of the line ingredients in our cosmetics to make a great product for our customers.
 Benefits Of Moisturizer Cream:
Softer skin

Fight dry winter conditions

Smoother complexion
Order Your Private Label Moisturizer Cream Here
Our Private Label Anti-aging cream is a moisturizer-based cosmeceutical skin care product marketed with the promise of making the consumer look younger by reducing, masking or preventing signs of skin aging. Vox Skin Care uses top of the line ingredients in our cosmetics to make a great product for our customers.
Benefits of Anti-aging Cream:
Improved skin elasticity

Less visible signs of fine lines and wrinkles

Smoother younger looking skin
Order Your Private Label Anti-Aging Cream Here
Make 2017 your year for success, and start private labeling this year's hottest skin care products today with Vox Nutrition. As a Private Label Supplement and Skin Care Manufacturer, we pride ourselves in having the quickest turnaround times in the industry. Order today and get an turnaround time of up to 72 hours* and be ready for the new year's Resolution rush. 
For more information on our complete line of private label supplements and the other top selling supplements of 2016 click here.


Top Private Label Skin Care Products Of 2016
New Years brings out the resolutions of people looking to be at their best. See the top skin care products you should private label in 2017 here.