African Mango Pure
African Mango Pure Called by America's favorite Dr. "the breakthrough weight loss fix for women over 40." African Mango extract is one of the strongest natural appetite controlling supplements on the market. Additionally African Mango is loaded with B vitamins which help boost the metabolism to support reaching weight loss goals.
Why Sell African Mango Pure:
Description
This is a powerful weight loss supplement that has helped countless people lose those unwanted pounds in conjunction with healthy diet and excercise. While also helping them boost their metabolism and energy so they can get through the day and their workout to reach their weight loss goals.
Private Label Your Company's Weight Loss Supplement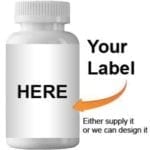 Our private label pure african mango weight loss supplement is one of the best in the industry, delivered in an easy to swallow veggie capsule.
Private Label your company's african mango and other private label weight loss supplements with vox nutrition and get up to a 72 hour turn around time on your orders.
Product Information
Serving Size: 1 Capsules
Capsules Per Container: 60
Bottle Color: White
Bottle Size: 175cc
Lid Color: White