Private Label Garcinia Cambogia Standardized 60% HCA
Garcinia Cambogia Standardized contains 60% HCA (Hydroxycitric acid) which blocks the enzyme Citrate Lyase which in turn increases the levels of energy and aids in mood enhancement. This supplement helps with appetite control by helping you feel full. Garcinia Cambogia is a natural supplement ,made from the extract of the rind of a garcinia plant.
Why Sell Garcinia Cambogia Standardized:

Description
An natural fruit produces seeds that when properly developed contributes to Weight loss. People suggest that Garcinia Cambogia supplements help limit fat storage and signals the brain that the stomach is satisfied which helps to control the appetite.
Private Label Your Company's Weight Loss Supplements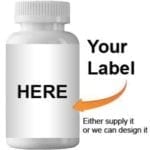 As a private label manufacturer, Vox Nutrition offers its customers Garcinia Cambogia Standardized 60% HCA, delivered in easy to take capsules.  Providing unlimited customization for your order.
Place an order today and get a turn around time of 72 hours on your private label supplements
Product Information
Serving Size: 1 Capsules
Capsules Per Container: 60
Bottle Color: White
Bottle Size: 175cc
Lid Color: White