Private Label Thermogenic Oxy Burn
This is an natural supplement containing properties that aid in energy and focus. It works to increase muscle strength, fat metabolization and increase mental acuity.  This private label weight loss supplement is the perfect supplement for those companies looking for a high quality thermogenic and lipogenic fat burning supplement.
Why Sell Oxy Burn:
Description
Our custom weight loss supplement, Ultra Oxy Burn, helps aid in appetite control, give a mental boost and increase muscle strength. Thermogenic supplements like private label Oxy Burn are some of the most popular weight loss supplements on the market. When combined with proper diet and exercise, this supplement can support your customers weight loss goals. 
Private Label Your Company's Weight Loss Supplements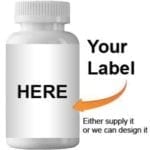 As a private label manufacturer-Vox Nutrition offers its customers private label Oxy Burn weight loss supplements, delivered in easy to swallow capsules, while providing unlimited customization of your order.
Order today and get a turn around time of 72 hours on your private label supplements.
Product Information
Serving Size: 1 Capsules
Capsules Per Container: 60
Bottle Color: White
Bottle Size: 175cc
Lid Color: White