Private Label BCAA Capsules
BCAA or Branched Chain Amino Acids are comprised of the following amino acids: Valine, Leucine and Isoleucine. These essential amino acids are the body's building blocks of building muscles.
Whether you are looking to build muscle, get faster, or just recover from a workout BCAA supplements are a must. These Essential amino acids can help your body increase muscle protein synthesis to improve recovery and increase your endurance so you can get more from your workout.
Benefits of BCAA Capsules
Enhances Muscle Protein Synthesis
Increase Fat Burning
Decreases Muscle Soreness
Enhance Endurance
Helps Your Muscles Recover Faster
Description
Supplementing with BCAA capsules can be a great way to help your body recover from the strains of exercise to help you increase your endurance and recovery time, so you can reach the goals you are aiming for quicker.
Private Label Your Vitamin Supplements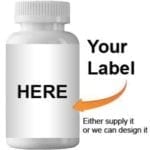 As a private label vitamin manufacturer Vox Nutrition offers our clients the best BCAA Capsules on the market today, delivered in an easy to swallow veggie capsule.
Order your company's sports nutrition supplements today to get unlimited customizations of your supplement and get a turn around time of up to 72 hours on your private label supplement order.
Product Information
Serving Size: 2 Capsules
Capsules Per Container: 60
Bottle Color: White
Bottle Size: 175cc
Lid Color: White