Private Label Collagen Gummies
Beauty supplements are on the rise as the "beauty from within" trend continues to gain popularity. This is why collagen has gotten a lot of attention recently, collagen It's what keeps us looking and feeling young. We've also included vitamin C to help the body to be able to properly process and use the collagen. Your customers will love supporting their health and youthfulness with this delicious collagen vitamin gummy.
Why Sell Private Label Collagen Gummies:
Supports skin health
Promotes healthy joints
Strawberry, heart-shaped gummies
Description
Private Label Your Company's Vitamin Supplements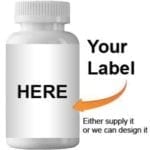 As a private label manufacturer we offer our customers Private Label gummy vitamins, while providing unlimited customization of your order.
Order today and get a turn around time of 72 hours on your private label supplements.
Product Information
Serving Size: 1 Gummy
Capsules Per Container: 30 or 60
Bottle Color: White
Bottle Size: 200cc or 300cc
Lid Color: White