Private Label Fiber Gummies
Fiber is a healthy and necessary part of our daily nutrition, unfortunately most people don't get enough of it. Most Americans live off of modern diets packed full of over processed junk that doesn't contain the nutrients we need like fiber. That's why supplementing with a fiber gummy can be a great option. Taking fiber supplements has never been this fun and delicious!
Why Sell Private Label Fiber Gummies:
Supports weight loss
Boosts Health
Promotes gut health
Description
Private Label Your Company's Vitamin Supplements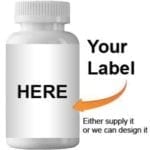 As a private label manufacturer we offer our customers Private Label gummy vitamins, while providing unlimited customization of your order.
Order today and get a turn around time of 72 hours on your private label supplements.
Product Information
Serving Size: 2 Gummy
Capsules Per Container: 30 or 60
Bottle Color: White
Bottle Size: 200cc or 300cc
Lid Color: White