Private Label Resto Night Time Recovery
Resto Nighttime Recovery Supplement contains a branched-chain amino acid and Glutamine, which is thought to protect and build your muscles while you sleep. This supplement works to protect the muscles from catabolic breakdown, supports lean muscles and encourage muscle growth to ensure you get the most out of a workout by providing the body with the building blocks of muscle. 
Why Sell Resto Nighttime Recovery:
Description
These amino acids are the most abundant in the muscles and most readily absorbed by the body. When used in conjunction with a workout, Resto Nighttime Recovery Supplement, supports muscles in a variety of ways while you sleep. Available in easy to swallow gel capsules.
Private Label Your Company's Vitamin Supplement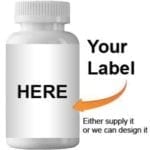 As a private label manufacturer, Vox Nutrition offers its customers Resto Night Time Recovery, delivered in easy to swallow capsules.  Providing unlimited customization for your order.
Place an order today and get a turn around time of 72 hours on your private label supplements.
Product Information
Serving Size: 5 Capsules
Capsules Per Container: 150
Bottle Color: Black
Bottle Size: 300cc
Lid Color: Black