Private Label Melatonin+ Formula
This proprietary blend of natural ingredients include; melatonin, chamomile and vitamin B-6.  This natural blend has been formulated to aid the body in obtaining more restful sleep. Our private label Melatonin+ Formula contains relaxing vitamins, minerals and herbs. When taken as directed, Melatonin+ Formula can help decrease feelings of worry and stress while falling asleep and sleeping through the night.
Why Sell Private Label Melatonin+:
Description
This sleep supplement gently calms the brain activities to aid in falling and staying asleep.  This allows the body to feel rejuvenated without having to deal with the negative side effects of a prescription drug sleep aid. These potent ingredients assist the body in subduing feelings of worry and stress.
Why Order From Vox Nutrition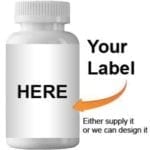 As a private label manufacturer- Vox Nutrition offers its customers Melatonin+ Formula capsules with a customized label to fit your business.
Order today and get a turn around time of 72 hours on your private label supplements.
Product Information
Serving Size: 2 Capsules
Capsules Per Container: 60
Bottle Color: White
Bottle Size: 175cc
Lid Color: White
Supplement Label