Private Label White Mulberry Leaf Blend
Millions of Americans struggle with their weight and try to shed those extra pounds every year without success. Many times sugar cravings and a nagging appetite get the better of them. That's why it's no surprise that many people have come to use white mulberry leaf supplements. In our private label white mulberry leaf blend supplement we've also included other natural ingredients also known to help support weight loss goals.
Why Sell White Mulberry Leaf Blend:
Natural weight loss supplement
Blend of popular weight loss ingredients
May support sugary cravings control
Description
White mulberry trees are native to China and produce white mulberries that are edible when ripe. But not only does this amazing tree produce fruit, its leaves are very beneficial. In our private label white mulberry leaf blend supplement we've included 500mg of mulberry leaf extract for a more concentrated dose than simply supplementing with the leaves alone.
Blend Ingredients
Garcinia Cambogia: A fruit grown in India, Southeast Asia and Central Africa, it has been used for its weight loss and appetite controlling abilities for centuries.
Green Coffee Bean: One of the most commonly found fat burners on the market.
African Mango Extract: Most commonly used to naturally control appetite.
Cinnamon: Cinnamon's unique health benefits come from three basic types of components in the essential oils found in its bark.
Private Label Your Company's Supplements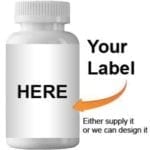 Private Label Nutrition SupplementAs a private label supplement manufacturer-Vox Nutrition offers its customers White Mulberry Leaf extract , delivered in easy to swallow capsules while providing unlimited customization of your order.
Order today and get a turn around time of up to 72 hours on your private label supplements.
Product Information
Serving Size: 2 Capsules
Capsules Per Container: 60
Bottle Color: White
Bottle Size: 175cc
Lid Color: White