Vox Nutrition Capibilities in Manufacturing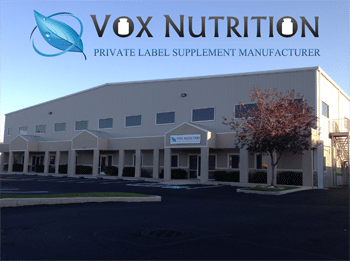 About our facility
Private Label Supplements is an industry leader in providing private label supplements. With our 10,000+ sq. ft. of manufacturing and our fast turnaround times, we have what you need and can satisfy any growing company, no matter how fast you're expanding. In this growing industry, we are dedicated to setting ourselves apart by delivering product that exceeds your high expectations of what our type company can do in this industry.
*Encapsulation: 1.5 Million capsules/shift,
*Sample Pouches: 10,000/day, *High efficiency machines, *High-speed automated bottling lines, *Super clean facility designed for tours. *FDA Registered Facility that follows GMP Guidelines *100% Custom formulation *Custom Formulation Powder Blending and Packaging *Custom Product Design for all bottles and sizes *In house Graphic Design services. *Order fulfillment including drop shipping and storage *Vox Private Label Supplements is your 1-stop shop for all your company's needs
Vox Vs Competition
Vox Nutrition VS Competition
Vox Nutrition prides itself in running the best business possible and being transparent with our customers. We started as solely retail in early 2004 and have expanded to not only selling retail online, but also distributing our label to companies all over the world. We know what it's like to be a start up - we know what it's like to have rapid growth and not being able to get product fast enough. We know what it's like to be promised one thing and have another happen. It's our goal to not be that company, but to be a company you can trust and depend upon, and most importantly, to help you the best we possibly can.
*In House Manufacturing
*In House Blending *In House Encapsulation *In House Bottling *In House Design *In House Printing *In House Labeling *In House Drop shipping *In House Fulfillment *In House Shipping
If you have more question about Vox Private Label Supplements, our manufacturing process, and how we compare to our competitors, please email us at sales@voxnutrition.com or call us M-F 8:30am-5:00pm MST at 800-795-7161.
From the Blog
Benefits of Neuro Brain Formula The attractiveness of brain boosting supplements have...

Vox Nutrition Hair, Skin & Nails Our supplement specifically designed for...

Vox Nutrition Green Coffee Bean Green coffee beans contain a key...
Testimonials
Date: 6/10/2014
Recently ordered ~50 bottles of a product for a new start up venture. Reason I chose Vox Private Label Supplements (and Staff) was that they was super accommodating and my questions were always answered within 24 hours. Once I received the label creative (and packaging) was blown away with the high level of design (was not expecting this type of quality).
Thanks Vox,
Jaime
Date: 5/20/2014
I have always been and continue to be very impressed with this company. I placed my first order on 2008. Great costumer service and the do a great job making me fell my transaction is safe and secure.They provide a most impressive service, very good pricing, always received my order very fast and splendid product. Excellent all round. I am highly satisfied and will have no hesitation in using them again in future. I really recommend this company.
Thank you,
Adriana, Utah.