May has been named the Healthy Vision Month by the national eye institute. So it is only fitting that at Vox Nutrition we are proud to introduce our new Private Label Eye Formula.
Benefits Of Our New Vision Support Formula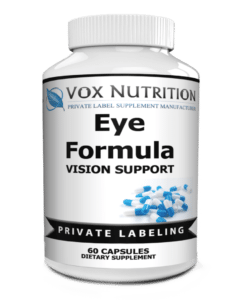 Our new Eye Formula is produced from a blend of vitamins to help boost your immune system, and help improve your vision by helping with color perception and vision clarity. Below are just a few benefits of this powerful vitamin supplement.
Reading Clarity
Night vision
Color Perception
Boost to the Immune System
Increased depth perception
Order our new Eye Formula today and get the industry's fastest turn around time of 72 hours, so you can spend less time waiting for your product and more time selling it to your customers.
See our complete line of Private Label Supplements Below to get started today.