Over the last 12 years herbal supplement sales have continued to be some of the supplement industries top sellers. With the number one supplement leading the way each of the last 4 years, Turmeric. In fact sales for private label turmeric supplements have more than doubled since 2015.
With such growth in the Turmeric supplement market, we have had an overwhelming amount of companies contact us looking for more ways to take advantage of this supplement popularity. With that in mind Vox Nutrition is proud to announce that we are now offering Multiple Turmeric supplements to our line of private label herbal supplements.
Now Offering 3 Different Turmeric Supplements
Along with our industry leading private label turmeric Curcummin supplement. We will now be carrying 2 more Turmeric supplements. One for your favorite pet, the other a specially formulated and more potent anti-inflammatory, turmeric with ginger supplement.
Private Label Turmeric With Ginger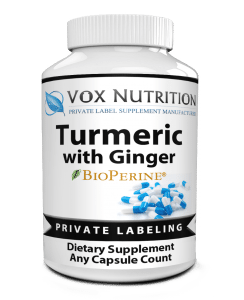 Turmeric and Ginger have long been known to have huge anti-inflammatory benefits, and a great antioxidant. As more people are looking for a natural way to relieve joint pain, help with motion sickness, deal with stomach issues caused by gas and bloating. Our private label Turmeric With Ginger is a must have for your company to continue to be at the forefront of the market. See some of the main benefits of this powerful supplement below.
Benefits of Turmeric W/ Ginger
Powerful Anti-inflammatory
Reduce symptoms of indigestion
Help relieve joint pain
Promotes healthy cholesterol levels
Helps enhance cognitive brain functions
Natural antidepressant
Order Your Private Label Turmeric With Ginger Supplement
Private Label Turmeric Pet Hip and Joint Care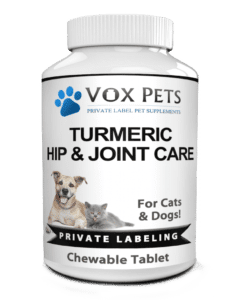 Pet supplements are one of the areas of the supplement industry that has seen some of the largest growth over the last 3 years. With more pet owners looking for ways to help their furry friend live a longer and more comfortable life. There are lots of reasons to private label pets supplements that you can read here. But if there is one pet supplement you should offer your customers this year it is our new private label Turmeric Pet Hip & Joint Care supplement.
Benefits of Our Turmeric Pet Hip and Joint Care
Much like the benefits of turmeric in humans, pets also get huge anti-inflamatory and antioxidant benefits. Making this the perfect all natural pet supplement that can help your aging pet deal with joint pain and digestions issues.
Powerful Natural Anti-inflammatory
Helps Improve Joint Mobility in Pets
Help Strengthen Bones
Help Alleviate Pet Joint Pain
Order Your Private Label Turmeric Pet Hip & Joint Care Supplement
Private Label Turmeric Curcumin W/ BioPerine
Of all the supplements we stock our private label turmeric w/ bioperine supplement has been our most popular by far. With one of the best formulas on the market today our customers have never had a problem selling this fantastic supplement.
Benefits of Turmeric Curcumin
Turmeric curcummin has been used and trusted as a highly effective nutrition supplement for over 4,000 years. With the many studies and benefits of this supplement, it is a must have for any company selling health supplements in today's market. A few of the many benefits are as follows:
Helps improve digestion
Proven to relieve joint Pain
Improves mental clarity
Mood enhancer & natural anti-depressant
Promotes cardiovascular health
Many more
Order Your Private Label Turmeric Curcumin w/ BioPerine