Vox Nutrition Monthly Specials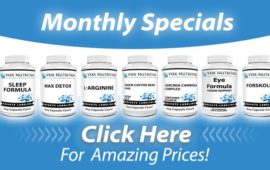 At Vox Nutrition we are dedicated and determined to giving our customers the best service and prices in the industry. So if you ever find a lower price on a supplement please call us so we can beat it.
In an effort to give our customers the best prices on our private label supplements each month. We have put together a variety of supplements at an extreme discount.
Below are this month's wholesale private label supplement specials to order or for more information please call us at 1-800-795-7161
| | | | |
| --- | --- | --- | --- |
| Quantity | 50-199 | 200-999 | 1,000+ |
| Price | $3.15 | $2.85 | $2.35 |

Ashwagandha is a herbal supplement known for its restorative properties, and perfect for help optimize adrenal health, normalize energy levels, boost moods and many more. See all the benefits of our private label Ashwagandha herbal supplement here. Click Here For More Information on Ashwagandha.

To Order Call Vox Nutrition Р800-795-7161

| | | | | |
| --- | --- | --- | --- | --- |
| Quantity | 50-199 | 200-999 | 1000-4999 | 5000+ |
| Price | $2.94 | $2.64 | $2.14 | $2.04 |

Our Garcinia Cambogia Complex is a natural supplement with HCA which helps with suppressing appetites, boosting the metabolism and providing higher levels of energy.  Help your customers reach their weight loss goals with this extremely popular supplement. Click Here For More Information On The Benefits of our private label Garcinia Cambogia Complex Gel Caps formula.

To Order Call Vox Nutrition Р800-795-7161

| | | | |
| --- | --- | --- | --- |
| Quantity | 50-199 | 200-999 | 1000+ |
| Price | $3.00 | $2.76 | $2.65 |

Our Hip & Joint pet formula is packed with the essential vitamins, and minerals to help your pet with hip and joint pain.  Help your customers pets live a longer and healthier life while increasing their bone strength. Click Here For More Information On The Benefits of our hip and joint care formula.

To Order Call Vox Nutrition Р800-795-7161

 

| | | | |
| --- | --- | --- | --- |
| Quantity | 50-199 | 200-999 | 1000+ |
| Price | $3.60 | $3.40 | $3.00 |

Our Total Pet Health is a complete natural supplement that can help to protect your customers pets a live a healthier life by helping them with the following. Increase joint and bone health, promote skin and coat health, improve digestion, and improve eye and vision health. Click Here For More Information On The Benefits of our Total Pet Health

To Order Call Vox Nutrition Р800-795-7161

 

| | | | |
| --- | --- | --- | --- |
| Quantity | 50-199 | 200-999 | 1000+ |
| Price | $3.01 | $2.71 | $2.21 |

Our specially blended proprietary eye formula helps with improving immune systems to help with vision clarity, and depth perception. with over 8 million people dealing with macular degeneration this is a must have for any company's line of vitamins.  Click Here For More Information On The Benefits of our Eye Health Formula.

To Order Call Vox Nutrition Р800-795-7161

| | | | |
| --- | --- | --- | --- |
| Quantity | 50-199 | 200-999 | 1000+ |
| Price | $3.64 | $3.34 | $2.84 |

Our private label sleep formula is a supplement that gives a safe, natural way of helping people relax, reduce anxiety, and naturally help people get to sleep. This is an all natural sleep blend that is a non habit forming product with no side effects. help your customers get the sleep they need with this powerful herbal supplement. Click Here For More Information on our Sleep Formula.

To Order Call Vox Nutrition Р800-795-7161

| | |
| --- | --- |
|  Quantity | 50 Р1,000 |
| Price | $2.25 |

Give your company's line of beard care products a boost by private labeling our industry leading Beard Balm. Eliminate beard frizz, dry hair, repair split ends and damaged hair. Choose from 10 different unique Scents. Click Here For More Information On Our Private Label Beard Balm

To Order Call Vox Nutrition Р800-795-7161

| | |
| --- | --- |
|  Quantity | 50 Р1,000 |
| Price | $1.99 |

Give your company's line of hair and beauty products a boost by private labeling hair oil for women. With the power to eliminate frizziness, dry hair, repair split ends and damaged hair. Choose from 10 different unique fragrances. Click Here For More Information On Our Private Label Hair Oils

To Order Call Vox Nutrition Р800-795-7161

| | |
| --- | --- |
|   Quantity | 50 Р1,000 |
| Price | $1.99 |

Help your private label skin care product stand out from your competition by including beard oil in your line of hair and beauty products. With the popularity of men sporting beards, our Beard oil is projected to be one of this years biggest sellers. Choose from 10 different unique fragrances. Click Here For More Information on Our Beard Oil

To Order Call Vox Nutrition Р800-795-7161