Private Label White Mulberry Leaf Blend
White Mulberry: Known for its Super health Benefits
to help prevent diabetes, lower cholesterol, protect the immune system and to lose weight. This product is commonly used as blood sugar regulator by those with diabetes or those who may be overweight and at risk for diabetes. One of the most remarkable benefits of white mulberry is the reduction of bad cholesterol.
The mulberry leave extract has proven to be effective in slowing down the progression of ATHEROSCLEROSIS, which is the buildup of cholesterol plaque around arteries. Mulberries are charge with alkaloids that activate while cells known as Macrophages, these cells stimulate the immune system and increase its alertness to diseases and other illnesses.
Blend Ingredients
Garcinia Cambogia: A fruit grown in India, SE Asia and Central Africa, it has been used for its weight loss and appetite suppressing abilities for centuries.
Green Coffee Bean: One of the most commonly found fat burners on the market, GCB also has been shown in studies to improve weight, blood pressure and overall heart rate during exercise.
African Mango Extract: Most commonly used as a natural appetite suppressant. This Appetite suppressant is not a strong stimulant and is excellent in the case of low calorie intake since it does not commonly cause jitters or increased heart rate.
Cinnamon: Cinnamon's unique healing abilities come from three basic types of components in the essential oils found in its bark. This product is also known to increase brain function, protect against heart disease and assist in natural blood sugar regulation.
Serving Size: 2 Capsules
Capsules Per Container: 60
Bottle Color: White
Bottle Size: 175cc,
Lid Color: White
Tablets Per Container:

30 ct
60 ct
90 ct
120 ct
180 ct

Bottle Color:

White
Cobalt Blue
Black
Light Amber

Bottle Size:

100cc
150cc
175cc
200cc
250cc
300cc

Lid Color:
*For 100 – 200cc bottles only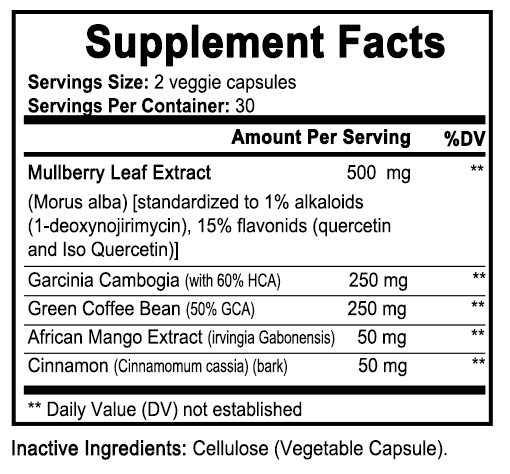 White Mulberry Leaf Extract
Why should I add White Mulberry Leaf to My Diet
Herbal White Mulberry
How Does White Mulberry Leaf Work
White Mulberry Leaf Capsules Vs. Tea
Side effects of White Mulberry Leaf
Wholesale White Mulberry Leaf Blend by Vox Private Label Supplements is a blend of best-selling products like Garcinia Cambogia, Green Coffee Bean, and African Mango Extract, coming together to form a potent dietary supplement. Commonly used for losing weight, this supplement has also been shown to protect the immune system, help your body prevent diabetes, and lower your cholesterol.
What White Mulberry Leaf Blend Can Do For You
White Mulberry¬†in itself has been known to have a variety of health benefits. Also known as morus alba, white mulberry comes from a mulberry tree that'Äôs native to northern China. In traditional medicine, it'Äôs been used to help 'Äútonify'ÄĚ blood and reduce the risk of diabetes. It'Äôs also been used to treat fevers and headaches.
For White Mulberry Info Click Here
Garcinia Cambogia, one of the best-selling supplements on the market today for quick weight loss, is derived from a fruit grown in India. It's been shown to help block fat by hindering a key enzyme in your body that needs to make fat from carbs, and also suppresses appetite by increasing your body's natural serotonin levels. This, in turn, helps boost energy and improves mental health.
For more information on Garcinia Cambogia Click Here
Green Coffee Bean extract,¬†comes from the coffee beans we all know and love, before they'Äôve been roasted and lose their chlorogenic acid, which has been shown to have health benefits for heart disease, diabetes, and weight loss. Green coffee beans are also a great source of amino acids, essential for healthy growth of the body and are considered the 'Äúbuilding blocks'ÄĚ of protein within the body.
For more information on Green Coffee Bean Extract Click Here
African Mango Extract,¬†comes from a tree grown in Central and West Africa, producing a similar fruit to a mango. The seed is where the potency comes from, which has been used as an appetite suppressant and weight loss supplement. It'Äôs also been shown to aid in lowering cholesterol levels and help control diabetes 'Äď it'Äôs also a great source of fiber.
For more information on African Mango Extract Click Here
Cinnamon, although a common household spice, is sometimes not recognized for its unique ability to help heal ailments. In ancient times, it was used to cure snakebites, the common cold, and even kidney troubles. It serves as a powerful antioxidant and even helps treat Alzheimer's disease.
Dosage
(2) capsules containing 500 mg Mulberry Leaf Extract, 250 mg Garcinia Cambogia, 250 mg Green Coffee Bean, 50 mg African Mango Extract, and 50 mg Cinnamon. Taken twice daily 30 minutes before a meal.
Summary
Author Rating





Brand Name
Product Name
Private Label White Mulberry Leaf Blend
Price
Product Availability