Private Label Hair Vitamin Gummies
Hair, skin and nails vitamins have become incredibly popular thanks to Instagram and social media. Not only do people love taking hair, skin and nails gummies to look their best on social media, people also love sharing pictures of their favorite vitamin gummy bears. Our private label hair vitamin gummy bears is formulated with the vitamins and minerals that help hair grow.
Why Sell Private Label Hair Vitamin Gummies:
Supports hair growth
Promotes strong hair
Description
Private Label Your Company's Vitamin Supplements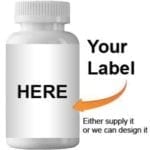 As a private label manufacturer, we offer our customers Private Label gummy vitamins, while providing unlimited customization of your order.
Order today and get a turn around time of 72 hours on your private label supplements.
Product Information
Serving Size: 1 Gummy
Capsules Per Container: 30 or 60
Bottle Color: White
Bottle Size: 200cc or 300cc
Lid Color: White